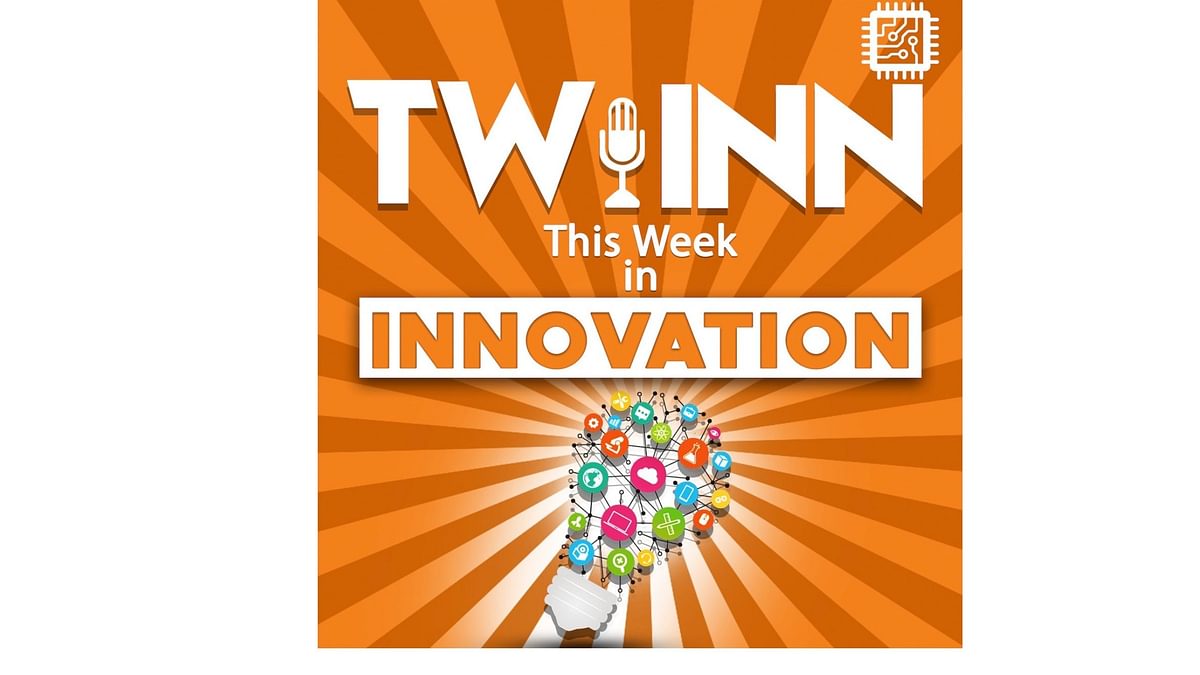 The idea for the This Week in Innonvation podcast came from a conversation with my old friend Brian Sathianathan at an afternoon wine tasting event. Brian and I both enjoy good wine and technology. We'd managed to connect both passions while exploring the beautiful south Santa Clara wine region we both call home. It was at one of those afternoon outings where the idea of a pod first came up. To be honest I wasn't all that excited as I was still a working analyst and it just didn't seem like a project I wanted to take on. A year later I retired as an active analyst to focus on charity and advisory board work. As I dug into the startup world I realized there really isn't a lot of coverage about the amazing innovation work happening in the startup community serving the retail sector. So on April 6, 2021 the first episode of This Week in Innovation was dropped. As of this writing we are 23 episodes in and dropping a new episode about once a week.
Our tagline for This Week In Innovation :
Jeff Roster (the analyst) and Brian Sathianathan (the VC) will explore the retail sector startup community. We will discuss the trends driving the retail industry and examine the technologies being built to take advantage of them.
Our Hypothesis:
There are 5 Forces that are driving innovation in retail and CPG. They include:
Artificial Intelligence (AI)
Internet of Things (IoT)
Blockchain
Startups
Data
We use the 5 Forces of innovation to frame our pod. Anybody focusing on any of these things are people we want to talk to.
We focus on four pillars:
The Startup Community working in retail and CPG.
Retailers involved in either innovation on the business side or technical side.
Analysts, professors, reporters, economists and technologists - anybody that has retail data or opinions.
Charity -anything that involves retailers or tech working in the retail industry
Who is the audience:
Founders, VC's focused on the retail/CPG space, retail executives interested in innovation, tech executives, reporters, analysts and academics interested in understanding innovation and digital transformation happening now in the retail sector.
Our subjects and guests:
Low code Revolution in Retail
Social Commerce: Can retailers Ride This Wave? with Shiv Dutt, VP Customer Experience, Pampered Chef
Blockchain: Separating the Benefits from the Bluster with Anoop Nannra, Global Blockchain Segment Leader, AWS
Corporate investments and M&A for Startups with Yvanna Perez Morel, Head of Corporate Development M &A Ulta Cosmetics
AI's Emerging role in Safety
Can AI Be Biased?
What Founders Need To Know About Talking To The Press with Joe Skorupa

former Editor in Chief of RIS News

Adoption of Innovative Tech in Traditional Organizations with John Selvadurai, Sr. Director of R&D, Iterate.ai

Guy Yehiav: How to Grow a Startup with Guy YehiavGet Visible: Using Public Relations To Help Startups Drive Growth

Get Visible: Using Public Relations To Help Startups Drive Growth with Scott Phillips, Founder and President of Scott Phillips + Associates PR firm

5 Pieces of Advice Every Founder Needs To Know About Analyst Relations with Wendy Shlensky, Principal/Owner and AR Maven, Canopy Communications and Beth Torrie, Owner, Torrie Communications

Social Audio: A Conversation with Dr. Gautham Vadakkepatt, Director, Center for Retail Transformation, GMURipcord: Using Robotics and AI To Digitize Analog Data (Paper) with Chris Chib, VP of Global, Strategic Accounts, RipcordHow AI Can Power HyperPersonalized Customer Engagement with Sandeep Mittal, Cofounder of Solus.ai

How To Maximize Your Time in a Vendor Briefing with Wendy Shlensky, AR Maven, Canopy Communications and Beth Torrie, Owner, Torrie Communications

Building and Monetizing Micro-communities Using Low Code with Shiv Dutt, VP Customer Experience & Innovation, Pamper Chef

A Conversation with Jonathan Abrams, Entrepreneur, Investor, Mentor and VC with Jonathan Abrams Co-founder and General Partner at 8-Bit Capital and Co-founder & Managing Partner, Founders Den

A Conversation with Michelle Pacynski, VP, Digital Innovation at Ulta Beauty withMichelle Pacynski, VP, Digital Innovation at Ulta Beauty

How to Master the Art of Pitching & Public Speaking with Brenden Kumarasamy Founder & President of MasterTalk.ca
If you like the show please give us a review and a five star rating, if you don't forget i said anything.
How to connect with us:
Podcast Hosts
Jeff Roster
Twitter https://twitter.com/JeffPR
LinkedIn https://www.linkedin.com/in/jeff-roster-bb51b8/
Website https://thisweekininnovation.com
Brian Sathianathan
Twitter https://twitter.com/BrianVision
Website https://www.iterate.ai
Podcast Website
https://www.podbean.com/pu/pbblog-f8asf-af2782
https://thisweekininnovation.com
Apple
https://podcasts.apple.com/us/podcast/this-week-in-innovation/id1562068014
Spotify
https://open.spotify.com/show/2QDqTUnt6jebdRHbRzSTJN
LaunchPadOne
https://www.launchpaddm.com/pd/This-Week-in-Innovation?showAllEpisodes=true
Listen Notes