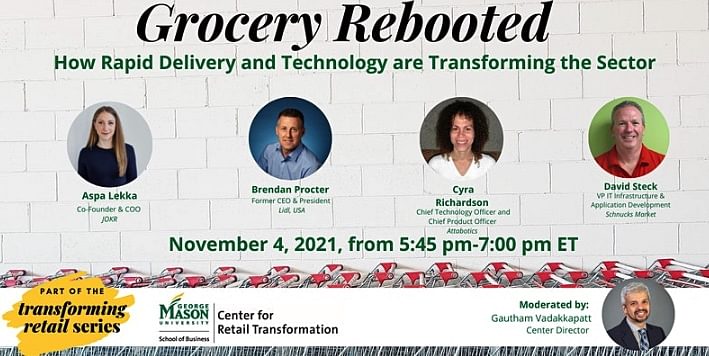 The Center for Retail Transformation at George Mason University School of Business is hosting the panel, "Grocery Rebooted: How Rapid Delivery and Technology are Transforming the Sector", on November 4th, 2021. The panel is billed as "a candid conversation on the challenges confronting the grocery sector and how technology, automation, and rapid delivery solutions are transforming the grocery sector and supply chains."
The panel includes:
Aspa Lekka, Founder and COO JOKR, a global platform for instant retail delivery at a hyper-local scale.
Brendan Proctor, Former CEO & President Lidl US. Previously, he was the President and CEO of Lidl USA, Ireland, and Austria.
Cyra Richardson, Chief Technology Officer and Chief Product Officer, Attabotics. Cyra is responsible for leading product strategy, commercialization, product development, technical strategy, and vision at Attabotics, a robotics supply chain system built for each item picking.
Dave Steck, VP of IT Infrastructure and Application Development, Schnucks Market. He and his team laid the foundational elements needed to bring the company to the forefront of retail technology.  He has subsequently added Application Development to his team, where he has incorporated the use of shelf scanning robots into the daily operations of the stores.
Hit the below link to get registered. This should be a good one!
https://www.eventbrite.com/e/grocery-rebooted-tickets-195598108207